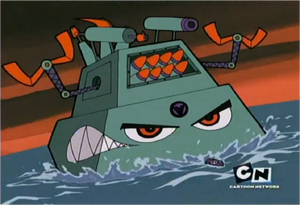 The war machine was an invention created my Major Doctor Ghastly, who then forced Dr. Courage to help make adjustments.
Appearance
Edit
The war machine is gray and has evil eyes and a mouth on it and a fin on the top which resembles a shark. It has two robot hands and laser cannons on top of it and missiles in it. In between the eyes is the HCC symbol on it.
Episode Appearances
Edit
Ad blocker interference detected!
Wikia is a free-to-use site that makes money from advertising. We have a modified experience for viewers using ad blockers

Wikia is not accessible if you've made further modifications. Remove the custom ad blocker rule(s) and the page will load as expected.