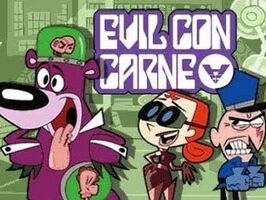 Evil Con Carne is a show created by Maxwell Atoms.
It was originally paired with The Grim Adventures of Billy & Mandy as Grim and Evil. In The Grim Adventures pilot, the undetailed pilot was used as filler because Maxwell Atoms was told the show would never be made...however, Cartoon Network changed their minds, and Grim and Evil was born.
Once Grim and Evil split into two shows, The Grim Adventures of Billy and Mandy and Evil Con Carne, Evil Con Carne only lasted two seasons while Grim Adventures went on to last seven due to being more popular.
However, a Grim Adventures episode, Company Halt was used as both a crossover and the series finale to Evil Con Carne long after the show had been cancelled.
Hector Con Carne
is a supervillain planning on world domination...unfortunately, his body was destroyed, leaving nothing but his brain and
stomach
, attached to
Boskov
the bear, who constantly disobeys orders and goofs around. This does not stop Hector from trying, with help from the loyal
Major Dr. Ghastly
and the not-so-loyal
General Skarr
.
He constantly must compete with other villains, fend off various do-gooders such as Cod Commando, and oftentimes deal with their own major screw-ups.
Characters
Edit
See List of Episodes
The name of the show is a pun off the term "Evil Incarnate"

It also means in Italian and Spanish "Evil with Meat" as a reference to Hector not having a body...thus not having any meat
Ad blocker interference detected!
Wikia is a free-to-use site that makes money from advertising. We have a modified experience for viewers using ad blockers

Wikia is not accessible if you've made further modifications. Remove the custom ad blocker rule(s) and the page will load as expected.