"

Blah blah blah blah

"

— 

Cod Commando
Cod Commando is a fish capable of breathing on land, and with human-level intelligence. He works for the organization S.P.O.R.K. and is their best agent. His communication solely consists of him saying "blah" and oftentimes being translated. He behaves like a human, with very few fish-related behavioral traits.
He was introduced in The Smell of Vengeance.
Appearance
Cod Commando is an orange fish. He has a green military hat and a green, skin-tight jumpsuit that covers his tail, with a belt with a large, square buckle. He has two white and black eyes and pink lips. He is most likely the shortest character in the entire show.
In the second season his back fin is shown to be spikier looking than in the first season.
Personality
Cod Commando is a courageous and daring soldier dedicated to his duty and stopping the forces of evil, who takes his job very seriously. He is often portrayed as being a stereotypical hero, being patriotic, and even reminding children to check both ways before crossing the street at the end of Go SPORK.
Despite this, he is sometimes easily fooled into falling into traps, such as in Ultimate Evil when Major Dr. Ghastly said it was her after saying she was leaving an anonymous phone call warning of Hector's latest plot, which should have made him realize it was a trap.
He is not without his darker traits, however, as he will go to great lengths to accomplish his goals, even if it means resorting to acts of rashness and severe violence, as seen when he destroyed Hector Con Carne's body while disguised as his mad scientist.
He also allowed Agent Heidi to be taken prisoner as revenge for her not setting him free when in the same situation earlier, even though they technically were supposed to be allies.
Speculation
In the episode Cod vs Hector, it is implied that the real reason Cod wishes to kill Hector is to gain control of his evil empire, but this is currently considered nothing more than a gag for the episode.
It's also possible that it was the result of Hector continuously using "You're the hero" to guilt trip Cod into helping him, while then turning on Cod and betraying him, and thus in that episode he grew tired of being the hero due to the consequences of his heroic attitude in that episode.
Abilities
Weaknesses
History
Background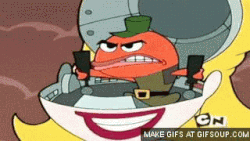 In 
Bring Me the Face of Hector Con Carne
it is implied they had been at odds for quite some time, but Hector had always elluded Cod with his guise of being a legitimate bussinessman.
He was the one who destroyed Hector's body in an explosion. He destroyed Hector's body in an attempt to kill him. In Bring Me the Face of Hector Con Carne it was revealed that while in disguise as a nurse, he got hired as Hector's new mad scientist, and built a bomb mechanism for Hector, with a self destruct button. Hector, not realizing it was a trap, pressed the button and his body was destroyed in the resulting explosion, which apparently was powerful enough to send his two front teeth to Antarctica.
In The Smell of Vengeance, Cod Commando confronts his enemy once again, claiming to be planning on "finishing what he started." However, Cod only managed to stop Hector's latest scheme and escape, without finishing Hector off. He becomes officially Hector's arch-nemesis for the rest of the show.
Trivia
Gallery
Ad blocker interference detected!
Wikia is a free-to-use site that makes money from advertising. We have a modified experience for viewers using ad blockers

Wikia is not accessible if you've made further modifications. Remove the custom ad blocker rule(s) and the page will load as expected.