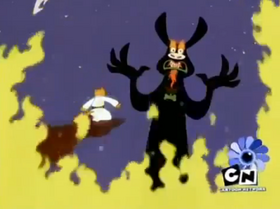 Barku is the primary villain in the Japanese-themed cartoon show Samurai Cat and the shapeshifting canine of darkness who is the archenemy of the titular protagonist Samurai Cat. The cartoon is one of Hector Con Carne's favorite shows and it is one of the reasons he loves Japan and swords. Barku and Samurai Cat were first seen in the episode "Son of Evil".
Barku and Samurai Cat are a parody of the characters from their fellow Cartoon Network show Samurai Jack and its characters Aku and Jack respectively.
Ad blocker interference detected!
Wikia is a free-to-use site that makes money from advertising. We have a modified experience for viewers using ad blockers

Wikia is not accessible if you've made further modifications. Remove the custom ad blocker rule(s) and the page will load as expected.